Application
The crimp force of YONG-FENG F76X hydraulic hose crimping machine is 6400KN, with a crimp range of 4~124mm and 15 sets of standard dies. YONG-FENG F76X crimpers are widely used for crimping high-pressure fuel pipes, industrial hoses, water hoses, automobile air bags and wire ropes etc.
Max. inner diameter
Hoses with 2 braided wires: 3"
Hoses with 4 spiral wires: 3"
Hoses with 6 spiral wires: 3"
Specification
| | |
| --- | --- |
| Crimp head material | FORGE STEEL |
| Crimp range | 4-124mm |
| Hose size | 3", 6SN |
| Passing diameter | 152mm |
| Opening diameter | 152mm |
| Opening | +65mm |
| System pressure | 31.5Mpa |
| Crimp force | 6400kN |
| Drive | 5.5kw |
| Standard voltage | Customized |
| Control | Full automatic |
| Standard dies | 15 sets |
| Weight | 1350kg |
| L x W x H | 980*1000*1600mm |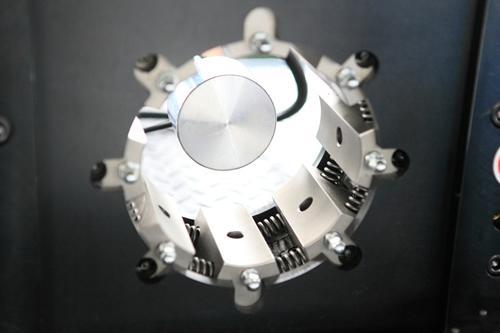 Details
The oil cylinder cover, oil tank and piston rod are made of 40 chromium, with a surface hardness of HRC26-30 and an operation layer hardness of HRC59-63. The hardened layer is 2mm thick.
The 40 chromium is high pressure resistant and tear resistant with great impact absorbing and carrying capacity. Therefore, the oil tank and piston rod are more durable.
Operation
The oil pump is immersed in hydraulic oil inside the oil tank for cooling and silence. The oil pump is driven using an electric motor and the hydraulic oil is pumped out, pushing the plunger in the oil tank. As a result, the die set compresses in a radial direction and crimps the hose connector. When the compression amount reaches the predetermined value, the compression will automatically stop. Then the magnetic reversing valve switches the direction and the plunger moves backwards. As a result, the die set expands and the hose crimping process is finished.
---